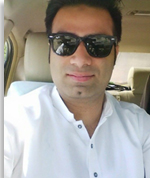 Fahad Ali Kazmi is currently working at IBIT, University of the Punjab as Lecturer. At IBIT, he teaches courses in Management, Human Resource Management, Organization Theory & Design and Project Management. His areas of academic research include University Governance, with a focus on international reform movements that impacted higher education sector globally, Management of Electronic Media Channels, and Muslim Mysticism.
Academically, Mr. Kazmi holds an MPhil in Management from the Institute of Administrative Sciences, University of the Punjab. Before Joining University of the Punjab, he had been working for Express Television Network, one of the leading Television Networks of Pakistan, where he served as content producer. At Express, he developed content for more than 100 episodes of different political talk shows. He has also hosted a talk show "MunTak" which was aired from "Neo TV "during 2015.
Mr. Kazmi has travelled extensively, and has represented Pakistan at various International Forums. He has represented Pakistan in USA, Japan, India, Egypt, Nepal, Morocco, China, Malaysia and UAE at various instances. An ace Debater of his times, he was also awarded with President of Pakistan's Gold Medal and Roll of Honor.
He was also nominated as Advisor to the Chief Minister's Debating Society and shares his academic input in various youth related initiatives. As an ardent reader and a student of Muslim Mysticism, he was also responsible in leading a Reading Circle of "KashafulMahjoob" the "magnum opus" of Syed Ali Hajveri (R.A).